UPDATED--Arizona haboob dust storms: rare, or regular?
UPDATE: Saturday July 21 there was a dust storm (AKA haboob) in the Phoenix Arizona area. There is another one going on
in Phoenix now
, July 23, 2012. It was a quickly developing storm that took weather forecasters by surprise. The photo immediately below does not depict the July 21 storm.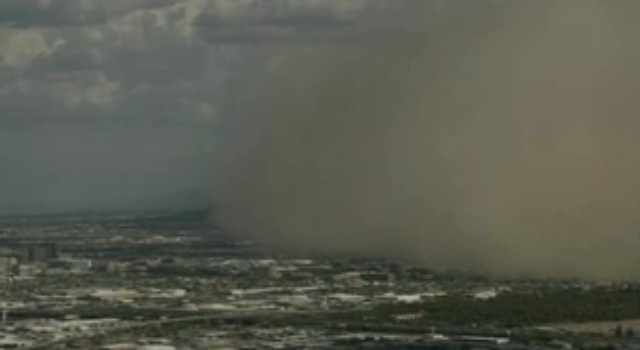 In learning that the average amount of these dust storms are two to three for any given summer season, the tally as of this moment is currently
five
. Just 12 hours ago it was four. Freak weather happening faster and faster. Today's storm: (
source
)
--------------------------end update----------------------------
On July 21, 2012, a massive dust storm hit Arizona. There are dramatic photos and videos of this storm event making the rounds on the internet. The July 21 storm was particularly harsh, and it knocked out power to thousands. These storms are called haboobs, from an Arabic word that means 'blown.' Winds can reach up to 50 miles an hour, and can obscure visibility to nothing in a matter of seconds. They can last a few minutes or up to three hours. The photos that are posted after the storm hits are often dramatic and eye-catching. Like this one at
Huffington Post
via AP from July 2011--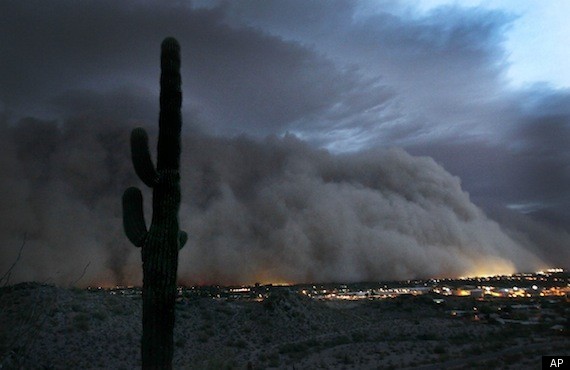 I've seen these photos for a couple years now. I got to wondering if haboobs are usual or unusual. (Usual). They happen in the summer, during what Arizona strangely calls their monsoon season, from June to September. They occur because there is a huge valley and air gets pushed down and thunder...well, you can read the explanation from a certified meteorologist
here
if you want.
I wrote about the July 2011 storm,
here
, in hopefully a straightforward, unspeculative manner. However, that storm, while occurring in normal manner at a normal time of year for haboobs, was especially ferocious. There were elements of that storm that seasoned weather forecasters had never seen before. One meteorologist is quoted in that article,
"But yesterday's haboob was more like something you'd see in the Middle East or other arid regions around the world, said Ken Waters, the warning coordination meteorologist with the National Weather Service (NWS) in Phoenix. It was mind-boggling, just absolutely amazing," Waters told OurAmazingPlanet. "I've been a meteorologist for years and I've not seen a wall of dust like that.""
We see prophetic events coming on us faster and faster now. We see the many earthquakes happen and we ask if they are happening more frequently now. (
Yes
). We see so many volcanoes erupting and we ask if there are more volcanoes erupting now. (
Yes
). So we always need to place an event in context and look at it from all angles before declaring that a single dust storm may be an omen of the Apocalypse. Are the events being described rare, or regular? Even if the event is common, were there elements of it that were unusual? What do people with knowledge say about the event?
We should do this so that we can share reasonable information with people. And the more reasonable we are the more credibility we'll have. The more credibility we have, the more (perhaps) a lost person will listen. That is the goal.
Let's take a look at haboobs of Arizona to see whether there is anything special to remark about.
We have established that haboobs are a regular feature of summer season in Arizona. The next question is, how many haboobs usually occur during the season? The Weather Channel's Sean Breslin answers the question "
Summer Arizona Haboobs: Rare or Regular?
" saying that each season the area will see "a couple." He noted that last year's July 5, July 18 and August 18 storms were par for the course.
This article says
that there are on average about three dust storms per year. OK, so a couple to three.
2012 has already produced four.
May 9
,
June 26, June 27,
and
July 21
That is one thing I look at, sheer numbers. Secondly, the haboob season is usually June to September and the first one this year already occurred outside the normal boundaries of the season. Then, look at a particular event to determine if there were unusual things about it. Last year's July storm was particularly nasty, containing elements that meteorologists have not seen before, such as the height of the dust stretching into the atmosphere. Also the speed of the wind. And third, that storm produced more damage than usual.
This season there have been four already and the season is only half over. Also, there was an unusual event in that two of the haboobs occurred a day apart, back to back. As we go on with summer monsoon season in Arizona, now you have some background to let us know if more haboobs occur, it will be above the norm. It already
is
.