Freak Cold in US, Coldest Summer in Spain
Here is a short weather roundup-
"We're now up to 34"
of Snow on top of Whiteface Mountain what a Memorial Day" ... twitter, @SkiWhiteFace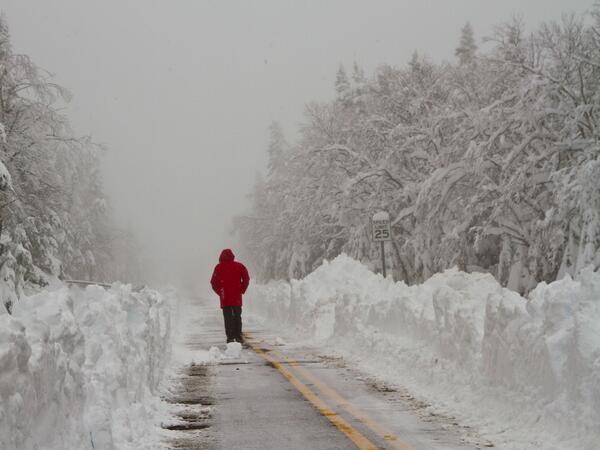 Northeast Frost, Freeze Concerns Tonight
"Since Memorial Day is typically deemed as the unofficial start to summer, many people of the Northeast may find it hard to believe that frost and freezing temperatures are a concern tonight."
Spain braces for 'coldest summer in 200 years'
If you've been looking forward to spending your Spanish summer sunning yourself by the pool, don't pack away your winter clothes just yet. France's main weather channel has announced that there is a 70 percent chance of this summer being cold and wet across Spain, France, Portugal, Germany and Austria. Cold maritime fronts and weak solar activity during the winter months have not only given us a chillier Spanish spring than normal, they're also going to make the summer months unusually dreary and rainy. According to Meteo, June and July are only likely to have short periods of summer heat which will in turn bring heavy storms in August. September and October are likely to register higher average temperatures and less rain, the French weather agency announced on Monday. The year without summer, 1816, is not an old wives' tale. Overcast skies and cold temperatures across the northern hemisphere led to severe crop failures and food shortages in France, England, Ireland and the US during the summer months of that year."
FYI,
"The Year Without a Summer (also known as the Poverty Year, The Summer that Never Was, Year There Was No Summer, and Eighteen Hundred and Froze to Death) was 1816, in which severe summer climate abnormalities caused average global temperatures to decrease by 0.4–0.7 °C (0.7–1.3 °F), resulting in major food shortages across the Northern Hemisphere. It is believed that the anomaly was caused by a combination of a historic low in solar activity with a volcanic winter event, the latter caused by a succession of major volcanic eruptions capped by the 1815 eruption of Mount Tambora, in the Dutch East Indies (Indonesia), the largest known eruption in over 1,300 years, which occurred during the concluding decades of the Little Ice Age, potentially adding to the existing cooling that had been periodically ongoing since 1350 AD." (
Wikipedia
).
So the Year without a Summer was caused by volcanic ash in the atmosphere from an unusually large volcanic explosion. So what is the reason for this year's strange weather? It cannot be blamed on volcanoes.
But speaking of volcanoes, Chile's "
Copahue Moved to Red Alert Status
"
"It might be a holiday in many parts of the world, but Chile's Copahue isn't taking a day off. The Chilean Geological Survey (SERNAGEOMIN) and civil authority (ONEMI) have moved the volcano to red alert status, which means an eruption is imminent or in progress. So far, from the details I can find, it is the former — an eruption is likely in the works in the hours to days timescale. The latest update from the SERNAGEOMIN says that over 250 small earthquakes related to magma movement are being recorded per hour at Copahue (although so far continuous volcanic tremor — an almost sure sign of eruption — has not been recorded). No plume has been spotted in the last day in satellite imagery and only a modest, ~400 meter steam-and-ash plume was seen from ground observations. However, the citizens of Caviahue in Argentina, just across the border from Copahue, have reported explosions and incandescence from the volcano. The sense from these updates and the change in status is that the SERNAGEOMIN expects an explosive event, similar to what we saw in December 2012 from Copahue, in the very near future. Schools in towns near the volcano have closed due to the threat of an eruption."
Only the LORD knows what tomorrow brings. Whether it be snow, ash, or rapture, He is in control. I place my trust in Him, and continue to feel blessed to be watching His work at this amazing time in history.