Get link

Facebook

Twitter

Pinterest

Email

Other Apps
The bible tells us to honor our teachers and pastors. (1 Thessalonians 5:12-13, 1 Timothy 5:17-20). And we do, but often we focus on the men. I think that is because if there is a woman teacher, she would naturally not be in the forefront.
In this day and age of the
celebrity pastor
, we see borne out over and over again that with growing recognition comes the temptation to
narcissism
. Paul was the greatest pastor and missionary who ever lived, who did more to lay the foundation of the church than any other, but whom Jesus gave a thorn in his side so he wouldn't let all of it go to his head.
"So to keep me from becoming conceited because of the surpassing greatness of the revelations, a thorn was given me in the flesh, a messenger of Satan to harass me, to keep me from becoming conceited." (2 Corinthians 12:7)
Would that many of today's famous pastors not only have, but
seek
a thorn, to rein in their mounting conceit borne from celebrity and the prideful trappings of fame. Why? Because...
...as Erin Benziger of the Christian blog
Do Not Be Surprised posted
, too many celebrity pastors are starting to believe their own press. Here, Pastor Driscoll posts that people should come to church to hear
him
speak.
I have already written this month about the secret Christian feminist female teachers who boldly declare they are taking on the "
classic leadership role
." Celebrity goes to women's heads, too. Beth Moore proudly
calls herself obnoxious
.
But there are many, many quiet pastors and teachers who plug along in their lives, ministering, or being on mission, or teaching for years, decades, even, and they
do not attain celebrity status
and amazingly, it doesn't bother them.
In the midst of all the hubbub, rock and roll events that celebrity teachers and pastors call "church" there are some who humbly plod along, teaching and preaching Jesus for His glory. One of these is Kay Arthur.
Kim at
The Mystery of the Ages
posted on Facebook yesterday that Ms. Kay turns 79 years old today! Happy birthday Ms. Kay!
I'll paste some of her
bio from Wikipedia
, I think you will be surprised and impressed with the body of work she has done, quietly and consistently, for the Lord for many years.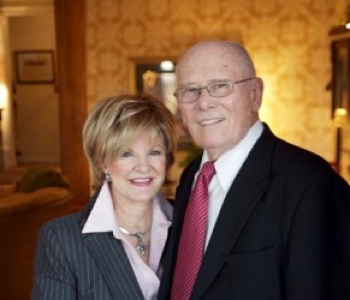 "
Kay Arthur is an international Bible teacher
, four-time ECPA Christian Book Award winning author, and co-CEO of Precept Ministries International. Kay has systematized studying the Bible, developing a set of steps to follow so as to "mine" the details of the given book under study. Being systematized, it is accessible to lay persons, rather than scholars only."
"Kay and her second husband, Jack, were serving as missionaries in Mexico in the late 1960s when medical problems forced them to leave the mission field. They returned to their home base in Chattanooga, Tennessee, confident that the Lord had further plans for them. Jack became the station manager of a local Christian radio station, and Kay taught the Bible to teens in their living room.
"The number of teens attending Kay's bible study group steadily grew, and God subsequently provided a 32-acre farm to accommodate the expanding ministry, which was named Reach Out Ranch. The radio station was sold in 1972, and Jack became full-time administrator for Reach Out Ranch. The ministry's name was eventually changed to Precept Ministries International (PMI), in order to more clearly communicate the organization's focus of establishing people in God's Word."
"Since co-founding Precept Ministries International, Kay has written more than 100 books and Bible studies, with over 11 million in print. Her inductive Bible studies are available in nearly 150 countries in approximately 70 languages. Precept Inductive Bible Study groups meet in all 50 states of the USA."
Her television show, "'Precepts for Life" has an audience reach of over 75 million households and broadcasts to over 30 countries. Precepts for Life was voted Best Television Teaching Program for 2004 and 2009 by the National Religious Broadcasters. Kay was awarded the NRB Hall of Fame Award at the National Religious Broadcasters (NRB) Convention and Exposition in 2011. Kay Arthur, Lois Crawford, and Aimee Semple McPherson are the only female recipients of this prestigious award, ... all Christian communicators who have exhibited the highest standard of faithfulness in Christian service."
Personally, I believe her service to the Lord in systematizing bible study and offering it to women has been a great benefit to the Body of Christ. A deep, theological, systematized study is something every Christian needs, but especially women, who tend to shy away from deeper doctrinal and expository study. And certainly today with the mess that women "teachers" like Beth Moore, Priscilla Shirer, and Christine Caine are offering with their subjective, mystical, Gnostic approach, much harm is being done to women who seek to learn more about Jesus from His word. The body of Ms. Kay's work stands for itself, and I praise Jesus for it.
I would say that when they left the mission field, God DID have other plans for Ms. Kay and her husband! Wow. What God does with a willing heart and a humble attitude is amazing. For over 50 years, God has used Kay Arthur and her husband for His glory. Please pray to thank the Lord for a gifted teacher like Kay and thank the Holy Spirit for His ministry through her. I thank You, Lord, for raising up a dedicated and humble woman for us to learn from, and I wish Ms. Kay many years of joy in the Lord.
Get link

Facebook

Twitter

Pinterest

Email

Other Apps